The Dental Illustration app is designed not only for professional dentists and their patients, but also for medical students.' Easy to download and set up for both Android and Apple users, it provides vivid and high-quality images of dentistry, oral diseases, general health, orthodontics and many others in one, highly intuitive and user-friendly app. Dental illustrations is an extremely useful tool, considering the rapid growth of dental medicine branch and, of course, the high expectations from the future specialist.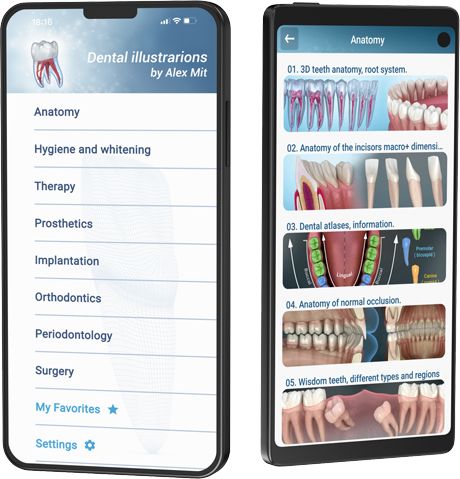 By downloading Dental Illustrations, users get access to professional materials, with image sets, as well as treatment guides for all common oral pathologies and inflammatory diseases. It will facilitate a better understanding of complex information, without the need to search additional illustration helpers.
The information is organized in different sections, making it an easy way to navigate from fundamental anatomy, through different types of dental conditions, to therapeutic and even surgical solutions. As complicated as the material can seam, the app will guide students and young specialist toward a more profound understanding of their future profession.

For example, the ANATOMY SECTION provides a 3D visualization of every tooth, from different angles, showing the exact location, all the anatomical insights, numbering system and terminology. Students can revise these charts anytime, without the need to access the library, navigate through multiple bookmarks or carry heavy manuals. The images a logically systematized and ready to use for studying, revising and preparing for exams and test. By the way, it is important to keep in mind, that a fully stacked team of developers is always looking for ways to keep the application relevant, and up to date, constantly revising and adding new information.

The THERAPY section assures a complex understanding of different types of diseases, their etiology and manifestation. The images provide a detailed visualization of oral infections, helping the student not only distinguish and recognize the problem, but also appreciate its complexity. This making it easier to comprehend, in theory, and then apply the gained knowledge in establishing the disease and elaborate a treatment scheme accordingly to its level of gravity.

The future orthodontist will understand and diagnose dental abnormalities, learn to choose the optimal solution and determine the most suitable appliance for dental correction. All this thanks to realistic images that cover all types of braces, prosthetics and veneers, as well as step-by step guidelines in PROSTHETICS and ORTHODONTIC SECTIONS.

Besides the medical insight, Dental Illustrations, will also teach the user how to explain in an intelligent, yet understandable manner the correct hygiene techniques or treatment procedures a patient has to undergo, enhancing the bed-side manners – which is the key to building a trustful doctor-patient relationship. Once you start using this app, there will be no need to search images on the spot, when the patient addresses a question. It will not only save time for both, patient and doctor, but will also take the consultation to the next level, in matter of professionalism and relevance.

Another convenient feature of Dental illustrations, is the possibility to upload own picture, photos and really any kind of images, for a convenient future use. This will help you keep track of your patient history, analyzing the evolution of the disease or treatment progress at any stage.

Whether you are just consider applying to medical school, and became a dental specialist, or you are already a straight A student, or maybe struggling between numerous definitions and schemes, Dental illustrations will help you get a better grasp on your future profession, help you study, and even serve as a cheat-sheet. The key thing is that Dental illustrations is at your fingertips whenever and wherever you need it.